TN Power Tariff Hike and Residential Solar
From 10-Sep-2022, TANGEDCO has increased the power tariff across different categories. For domestic consumers, there is a big hike and residents are reeling under very high electricity bills. For 2-month consumption more than 500 units, the tariff is in the range Rs. 8-10 /Unit. And, for above 1000 units, the tariff is Rs. 11 /Unit.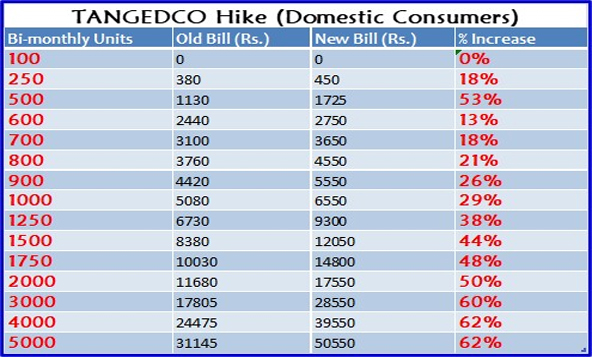 This high electricity bills can be a spoiler for residents who have built their dream homes (independent house, Apartment or Villa) in Chennai and Tamilnadu as a whole. Residential solar is the best choice to reduce these high electricity bills. Many smart residents have already chosen their preferred type of solar systems and installed customized solar systems. Also, these residents are now enjoying the solar net metering policy 2021 which is highly beneficial (as against net feed-in). These solar systems are providing benefits like bill reduction and partial or total power backup. Also, with its long-life and low-maintenance solar power becomes a natural selection here.
Guide to installing solar for residences
Solar power is a long-term investment. Solar panels have performance warranty of 25 years or more. A little self-search (online or otherwise) is mandatory to make the right choice.
Solar system type: Ongrid, Hybrid or Offgrid solar system, each have their own advantages and disadvantages. It is important to understand these and match with power requirement for the residence.
Solar system provider: This is also very important decision. The resident should filter out various tricks based on specifications, brand of the system components, discounts etc. before making their decision. And, analyzing the vendor's past performance and their customer feedback makes the investment meaningful and fruitful.
Area required: The space required for the installation of a solar system on the rooftop is about 80-100 sq. ft/KW with panels tilted to south based on the latitude. The solar panels can be mounted on open terrace or on roof-sheets. On open terrace, customers can plan structures with standard height or high-raised. Raised structures allows the roof area below the panels available for other purposes like sit-out or for gardening usage.
Cost of Solar: Cost of solar system will depend on the type of the system and size (KW). But, for the same KW and type of solar, different costs are possible based on the specifications and scope which are included in the cost. Note that, other than panels and inverters, there are many system components in Balance-of-System (BoS). All these should be done right for the system to operate well and for long.
Benefits of residential solar:
Bill Reduction (https://youtu.be/9L-HiHMAH0c): One can expect savings in electricity bill of about 60-100% depending on the type of system and the electricity usage. Usually, Ongrid systems give higher bill savings when the net metering policy is applicable. (Applicable now as in 2022)
Reliable power (https://youtu.be/arJm9yJdWts): Offgrid systems and Hybrid systems can give 24/7 power in addition to electricity bill savings. Even when EB/Grid power is OFF, the appliances connected to Offgrid/Hybrid systems continue to be powered by solar. Note that Ongrid systems would switch OFF during EB power-cuts.
Ease of Maintenance (https://youtu.be/8B3y3puYE-c): Solar panels require cleaning on regular basis for best performance. For Offgrid and Hybrid systems, distilled water topping needs to be done only once in 3 months if installed with lead acid batteries. Also, maintenance free batteries like VRLA gel batteries and lithium are available though at a much higher cost.
Self Sufficiency: Solar is preferred by users who believe in self-sufficiency and it helps residents to go independent to a maximum level. Solar has proven its capability in highly remote areas and also succeeded in both urban and rural areas.
Sunlight is good
Let it also reduce the electricity bill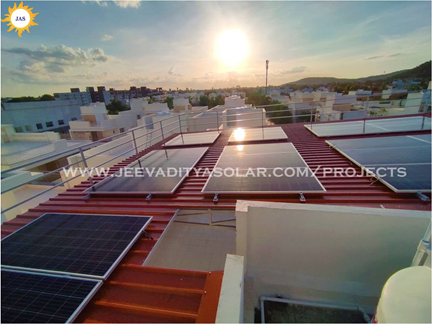 https://jeevadityasolar.com/wp-content/uploads/2022/11/TN-Power-Tarific.jpg
400
495
jeevadit_login
https://www.jeevadityasolar.com/wp-content/uploads/2021/03/logo.png
jeevadit_login
2022-11-24 09:03:50
2022-11-25 05:45:07
TN Power Tariff Hike and Residential Solar