Residential solar – is it worth?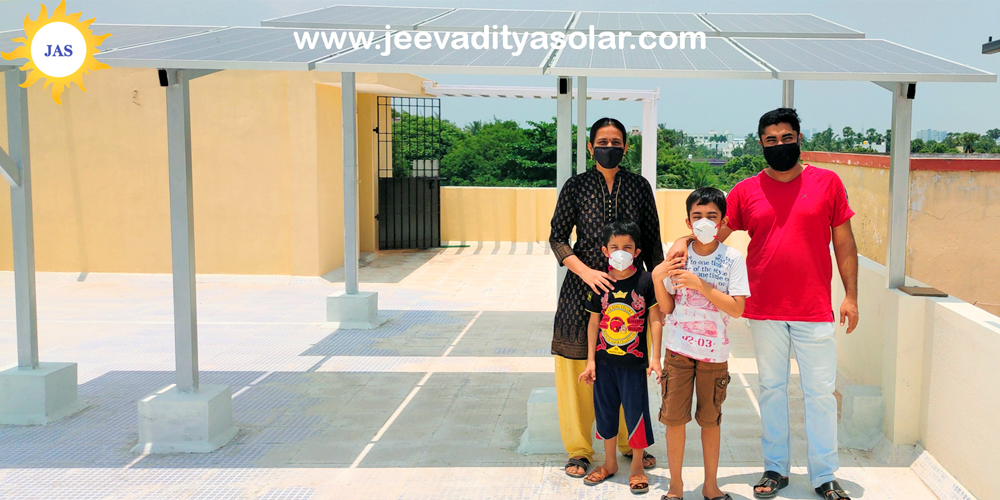 Huge numbers of residents in Chennai are opting for solar power for many reasons. Let us see why.
One thing, which is abundant in Chennai, is sunshine. The city gets very good sunshine for over 300 days a year on average. In Chennai and its outskirts like Kanchipuram and Chengalpettu, there is lot of the roof-area available on top of Independent-houses, Apartments, Villas and other residential properties. The roofs of these residences get very good sunshine throughout the year.
However, scheduled and unscheduled power-cuts (due to cyclones, flooding and other reasons) and high EB bills are issues for Chennai households. Solar power becomes a very good solution here providing big savings on TNEB bills and also reliable power independent of EB power-cuts. So, when one looks for purely investment or investment plus full-power-backup convenience, solar becomes an attractive choice as explained below.
Installing solar panels on the roofs of residences produces power and reduces the heat on the roof, which cools the house. The solar panels can be put with low-rise or high-rise structures on terrace or on sheeted-roofs as needed. The high-rise structures make the roof-area below it, available for other uses by the residents like for sit-out, gardening etc.
For More Videos visit our YouTube Channel
Benefits of Residential solar
Solar power systems have become quite economical for domestic solar applications. Moreover, with the new order of Tamil Nadu Government in 2021, solar has become even more attractive for TN households. The solar panel price and availability in Chennai is also quite attractive. So, the combination of:
very good sunshine,
large roof-areas on residences,
EB Power-cuts
high EB bills
availability of best quality and attractive price of solar system components (panels, inverters etc.)
long system life and low maintenance, and
new GO of the TN Government 2021
makes solar power very attractive for Chennai residents.
Types of home solar systems
There are two distinct types of solar systems for homes – Ongrid and Offgrid. Hybrid systems are also available. Residential customers usually choose Ongrid system if EB bill saving is the main requirement and power backup is not needed. And, Offgrid system is chosen when both EB bill saving and 24/7 power are important. Hybrid systems are preferred when EB bill saving with minimal power backup is needed.
Payback period
Ongrid systems provide good returns on investment. The residents should expect payback period of about 4-5 years. Offgrid systems, on the other hand, give returns and convenience of 24/7 power for extra investment for energy storage. The well-designed offgrid systems can power desired appliances (which can include high-power consuming ACs and motors also) in day and night.
For example, our 3KW offgrid systems have been powering most household appliances including Air-conditioner in day and night for most of the year. In rainy season, solar power is used up first and then appliances are automatically switched to EB, thus providing the convenience to the household. Thus, offgrid systems provide 24/7 power and energy savings. The payback period of offgrid systems is about 6-7 years.
Real-life examples for illustration
The ideal system type and size depends on each customer need and usage pattern. For example, Jeevaditya's 2KW off-grid system has reduced the EB bill by ~85% while providing 24/7 power for a resident in Chennai. And, Jeevaditya's 2KW on-grid system has reduced the EB bill by an average ~77% for a resident. For some billing-cycles, the many of our residential customers are even getting ZERO bills.
A 2KW solar system requires less than 200 sq. ft of roof-area. Both the above examples are real-life cases for 2BHK households with average power use and with two Air-conditioners. The pictures below shows examples of the TNEB bill history of two of our customers who have installed Ongrid and Offgrid system respectively.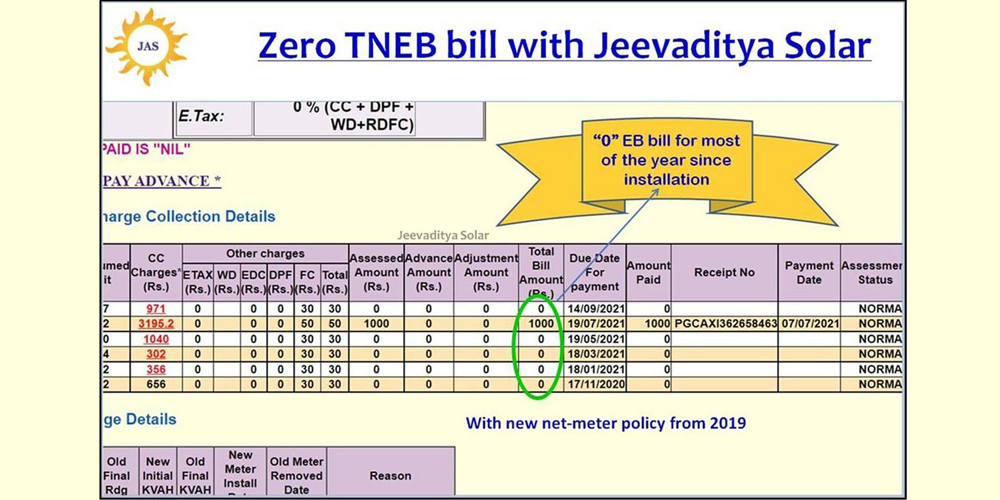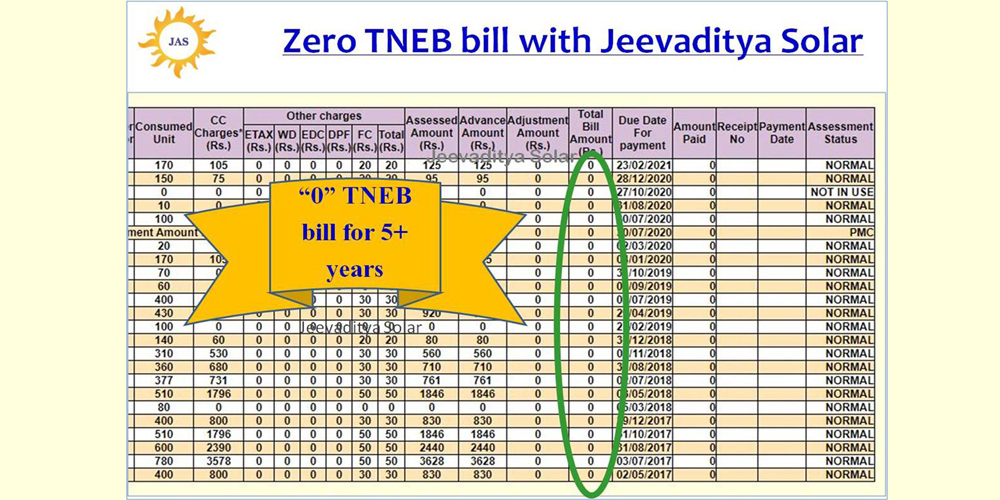 All the above benefits, makes solar power systems a popular choice with Tamilnadu households.
One note of caution. Solar for home is a long-term investment. Therefore, the residents should study the options carefully. Selecting the right system type and the size, correct specifications and operation-sequence etc., are some of the key points. Last but not the least, good quality solar installation is very important. Sometimes, it is easy to get confused with the solar system details. The real test of the right system is the good solar power production and benefits for long time without much service issues.
Happy green years ahead!
https://jeevadityasolar.com/wp-content/uploads/2021/12/Solar-for-home-in-Chennai.jpg
500
1000
jeevadit_login
https://www.jeevadityasolar.com/wp-content/uploads/2021/03/logo.png
jeevadit_login
2021-11-26 06:04:03
2022-01-25 11:02:52
Residential solar – is it worth?